Middle school is a funny place. Students can be mature and insightful one minute, obtuse and petulant the next. Yet even the most resistant scholar will enjoy a good story. The 40 stories below are sometimes surprising, other times hair-raising. They are all guaranteed to raise questions and instigate discussions in your classroom that can lead to meaningful dialogues about what really matters in the lives of your students.
Note: Would you like access to ALL of our curated short story resources -- PLUS a free lesson plan template you can use for ANY short story without having to enter your email address more than a dozen times?
For just a few dollars per month, you can have ongoing access to current and future curated resources! Let us do the late-night searching for you. Show me how!
All Summer in a Day
"All Summer in a Day" by Ray Bradbury is a science fiction short story that transports us to Venus, where the sun only shines for two hours every seven years - quite the weather shock, huh? The plot revolves around Margot, a young girl from Earth, and her classmates who've never seen sunlight. Margot, who remembers Earth's sunlight, is eagerly awaiting the brief summer. However, her classmates, jealous and unable to comprehend her experiences, lock her in a closet, causing her to miss the rare sunshine. Bradbury's vivid description of the yearning for sunlight and the emotional cruelty of children leaves a haunting impression. This story will make you feel the sun on your face a little differently, trust me!
Amigo Brothers
"Amigo Brothers" is a heartwarming tale by Piri Thomas, revolving around two best friends, Antonio and Felix, both superb boxers from New York City. Here's the twist - they have to fight each other in the division boxing finals! Even though they're both fiercely competitive and want to win, their friendship is always front and center. The real punchline comes at the end when, after giving it their all in the ring, they leave without knowing who won, because their friendship outshines any championship. This engaging story is a fantastic knockout that explores friendship, sportsmanship, and loyalty like no other. Be ready to be floored!
The Scholarship Jacket
"The Scholarship Jacket" by Marta Salinas is an inspiring tale that tackles themes of perseverance, integrity, and the true meaning of success. The story follows Martha, a hardworking Mexican-American student who has always looked forward to earning the coveted scholarship jacket, awarded annually to the school's top eighth-grade student. However, when the school decides to charge for the jacket, effectively meaning it would go to the student whose parents can afford it, Martha finds herself in a moral quandary. Faced with the reality of her financial limitations, she must stand up for what she believes is right. Salinas' narrative powerfully explores the intersection of education, social inequities, and personal courage. This is an encouraging read that reminds us that true merit cannot be measured in monetary terms. Get ready to cheer for Martha as she fights for her rightful recognition!
Icarus and Daedalus
"Icarus and Daedalus" is a captivating Greek myth that paints a vivid picture of inventiveness, daring, and the perils of overconfidence. Daedalus, renowned as a brilliant craftsman, and his young son Icarus are stranded on the island of Crete. To find a way off the island, Daedalus hatches an ingenious plan: he crafts wings out of feathers and wax for both of them. Despite Daedalus' words of caution about the wings' limitations, Icarus is exhilarated by the prospect of flight. As they take off on their daring escape, you'll be left on the edge of your seat, witnessing the suspenseful consequences of Icarus' boldness. Buckle up for a riveting journey into Greek mythology!
Flowers for Algernon
"Flowers for Algernon" by Daniel Keyes is a profound science fiction story that explores the human condition, intellect, and emotions through a unique lens. The narrative unfolds through the diary entries of Charlie Gordon, a man with intellectual disabilities, who undergoes an experimental procedure to increase his intelligence. As Charlie's intellect begins to surpass that of the doctors who created the experiment, he experiences the world in ways he never could before. However, alongside these exhilarating discoveries comes the understanding of his past treatment and a newfound loneliness. This story takes you on an emotional rollercoaster, probing deep questions about intellect, happiness, and the essence of human experience. It's a powerful read that is sure to leave a lasting impression!
Harrison Bergeron
"Harrison Bergeron" by Kurt Vonnegut, Jr. is a provocative dystopian short story by Kurt Vonnegut Jr., set in a future where the government enforces 'equality' by handicapping the gifted and talented. This compelling narrative introduces us to Harrison Bergeron, a teenager who, being exceptionally intelligent and athletic, is burdened with severe handicaps. When Harrison rebels against this oppressive system live on national television, things take a dramatic turn. Vonnegut's tale masterfully highlights the danger of enforced uniformity, posing potent questions about individuality, equality, and freedom. It's a thought-provoking read that'll challenge your perspective on societal norms. Get ready for a rollercoaster of ideas!
Raymond's Run
"Raymond's Run" by Toni Cade Bambara is an uplifting short story that explores themes of self-discovery, personal growth, and the power of love. Our protagonist is Squeaky, a fast and fiercely competitive runner with the responsibility of caring for her mentally disabled brother, Raymond. Squeaky's world revolves around winning races and protecting Raymond, but when a rival runner challenges her, she experiences a transformation in her understanding of what truly matters. Bambara's narrative beautifully captures the journey from personal ambition to a broader sense of community and love. It's a heartwarming read that showcases the strength of sibling bonds and the victories that matter most in life. Get ready to cheer for Squeaky as she races not just for victory, but for love and acceptance!
Rules of the Game
"Rules of the Game" by Amy Tan is a captivating story that explores themes of cultural identity, family dynamics, and personal growth through the lens of chess. The story is a part of Tan's novel "The Joy Luck Club," and focuses on Waverly Jong, a Chinese-American girl living in San Francisco. When she receives a chess set as a Christmas gift, Waverly quickly becomes a child prodigy under her mother's intense encouragement. However, this success strains their relationship as Waverly struggles with her mother's high expectations and the complexities of navigating two distinct cultures. Tan's narrative is a powerful exploration of the delicate balance between respect for tradition and the pursuit of individuality. It's a fascinating read that serves as a metaphor for the intricate game of life. Prepare for a compelling journey into the mind of a chess prodigy and the intricate dynamics of a mother-daughter relationship.
The Monkey's Paw
"The Monkey's Paw" by W.W. Jacobs is a gripping tale of fate, magic, and unintended consequences. The story begins when Sergeant-Major Morris, a friend of the White family, brings an unusual memento from his travels—a monkey's paw that allegedly grants three wishes to its holder. Despite Morris's warnings about the paw's curse, Mr. White, spurred by curiosity and the prospect of altering their humble lives, makes a wish. What follows is a chilling series of events that powerfully highlight the perilous side of having one's desires fulfilled. Jacobs' narrative is masterfully crafted, intertwining suspense and the supernatural to create a cautionary tale about tampering with fate. Brace yourself for a hauntingly memorable journey into the world of the uncanny!
The Bass, the River, and Sheila Mant
"The Bass, the River, and Sheila Mant" by W.D. Wetherell is a poignant coming-of-age tale about the agonizing choices of adolescence. Our protagonist is a 14-year-old boy, torn between his passion for bass fishing and his crush on the sophisticated, indifferent Sheila Mant. The climax hits when he's forced to choose between reeling in a record-breaking bass and potentially embarrassing himself in front of Sheila. It's a striking story that explores the bittersweet nature of growing up and the painful lessons of prioritizing the superficial over true passion. It's sure to tug at your heartstrings!
To Build a Fire
"To Build a Fire" by Jack London is a gripping tale of survival set in the harsh, unforgiving wilderness of the Yukon. The story follows an unnamed protagonist as he embarks on a treacherous journey through the freezing cold temperatures of the Klondike in order to reach a mining camp. With only a dog as his companion, the man faces numerous challenges and setbacks along the way, including his underestimation of the extreme weather conditions and his inability to build a fire to keep himself warm. As his situation becomes increasingly dire, the story unfolds with a sense of impending doom, highlighting the power of nature and the frailty of human existence in the face of its merciless forces. With its vivid descriptions and suspenseful narrative, "To Build a Fire" serves as a cautionary tale, reminding readers of the inherent vulnerability of mankind when confronted with the raw power of the natural world.
The Ransom of Red Chief
"The Ransom of Red Chief" by O. Henry is a hilarious and unexpected tale that turns the concept of kidnapping on its head. The story revolves around two hapless criminals, Sam and Bill, who kidnap a boy named Johnny, hoping for a hefty ransom. However, they quickly find that Johnny, who insists on being called "Red Chief," is more than they bargained for, with his wild imagination and boisterous antics. As the kidnappers struggle to handle their energetic and uncontrollable captive, they find themselves in a host of comical situations. O. Henry's narrative is a delightful reversal of roles, filled with wit and humor. It's an entertaining read that playfully reminds us that things aren't always as they seem, and sometimes the best-laid plans can go hilariously awry. Prepare for laughter and surprise as you follow the misadventures of Sam, Bill, and the irrepressible "Red Chief."
Seventh Grade
"Seventh Grade" by Gary Soto is a charming tale that captures the ups and downs of adolescence, as well as the complexities of young crushes. The story follows Victor, a seventh grader who's excited and nervous about his first day of middle school. On this day, Victor decides he will impress his crush, Teresa, with his 'maturity.' He signs up for French, a subject Teresa is also studying, and even tries to fake fluency in French. However, his plans go comically awry, leading to a series of amusing and relatable situations. Soto's narrative is a delightful exploration of young love, friendship, and the trials of growing up. This light-hearted read will surely take you back to your own school days and the simplicity of first crushes. So, buckle up and get ready for a nostalgic ride back to the adventures of seventh grade!
A Sound of Thunder
"A Sound of Thunder" by Ray Bradbury is a captivating science fiction short story that takes readers on a thrilling journey through time. Set in the future, the story follows a group of adventurous hunters who travel back in time to hunt dinosaurs. However, they are strictly instructed to avoid altering the past in any way, as even the slightest change can have unforeseen and catastrophic consequences on the present. Amidst the danger and excitement of the hunt, one hunter inadvertently steps off the designated path, crushing a seemingly insignificant butterfly. Little does he know that this small act sets off a chain of events that alters the course of history, leading to a chilling and thought-provoking twist. Bradbury's skillful storytelling and vivid imagery leave readers questioning the fragile nature of time and the potential consequences of our actions, emphasizing the importance of our choices in shaping the world around us.
The Tell-Tale Heart
"The Tell-Tale Heart" by Edgar Allan Poe dives deep into the human mind's dark abyss. Here's the deal: the story features an unnamed narrator, haunted not by ghosts, but by the "vulture eye" of an elderly man he cares for. It drives him so mad, he actually decides to... well, let's just say things get quite intense. After the 'incident,' our narrator stashes something under the floorboards, pretty confident he's managed a perfect cover-up. But then he starts hearing a sound – a heartbeat, louder and more persistent, echoing from beneath the boards. Is it real or is it all in his head? Driven to the brink, the narrator... But hey, no spoilers here! You've gotta dive into Poe's world to find out. Now that's a story you don't want to miss!
The Lady or the Tiger?
"The Lady or the Tiger?" by Frank R. Stockton is an intriguing short story that dabbles in love, jealousy, and suspense, all while keeping readers on their toes. Set in an ancient kingdom, the narrative spins around a semi-barbaric king's unique method of justice: a public arena with two doors, one hiding a fierce tiger and the other a beautiful lady. When the princess's secret lover, a lowly courtier, is accused of a crime, he's thrown into the arena to choose his fate. Now, here's where things heat up: the princess knows what's behind each door and signals her lover towards one. But, does she lead him to a gruesome death or a life married to another woman? Stockton leaves us guessing, turning this tale into a riveting debate about human nature, passion, and choice. This is one story that'll get your mind racing!
There will Come Soft Rains
"There Will Come Soft Rains" by Ray Bradbury is a captivating short story set in a post-apocalyptic world. In this haunting tale, an automated house, devoid of human inhabitants, continues its daily routines, dutifully preparing meals and cleaning, unaware that humanity has been wiped out by a devastating event. As nature slowly reclaims the surrounding landscape, the house persists in its futile efforts to serve its nonexistent occupants, creating a poignant juxtaposition between the persistence of technology and the transience of human existence. Bradbury's masterful storytelling and evocative descriptions compel readers to contemplate the fragility of civilization and the enduring power of nature.
The Lottery
"The Lottery" by Shirley Jackson is a riveting short story that takes a seemingly idyllic small town and turns it into a setting for a chilling tradition. The narrative centers around an annual event known as "the lottery," where the townsfolk gather, led by Mr. Summers, to draw slips of paper from a black box. The seemingly innocuous event builds an air of suspense and mystery as Jackson masterfully drops hints about the lottery's true purpose. As the tradition unfolds, we're confronted with a shocking revelation about the town's disturbing practice. "The Lottery" is a haunting exploration of conformity, tradition, and the dark side of human nature. Get ready for a story that will leave you stunned and make you question the power of societal norms!
Hearts and Hands
"Hearts and Hands" by O. Henry is a short story that masterfully spins a tale of identity, deceit, and the surprising complexities of the human heart. The narrative unfolds on a train journey where Miss Fairchild, a young and sophisticated woman, unexpectedly encounters Mr. Easton, an old acquaintance. Easton, handcuffed to another man, tries to maintain his dignity by introducing the man as an annoying Marshal who's escorting him to a meeting in the West. But as the story evolves, we realize that appearances can be misleading, and the truth is often far more surprising. O. Henry's narrative is renowned for its unexpected twists and touching exploration of human character. It's an intriguing read that serves as a reminder that true gentleness and nobility of spirit can exist in the most unlikely places. Prepare for an exciting journey filled with unexpected revelations!
Mother and Daughter
"Mother and Daughter" by Gary Soto is a heartfelt short story that explores the complex dynamics of the mother-daughter relationship. Yollie, an intelligent and spirited teen, and her mother, Mrs. Moreno, a hardworking and devoted single parent, face life's challenges with resilience and humor. However, their relationship gets strained as Yollie grapples with typical teenage struggles and the hardships of poverty, particularly when a stained dress ruins her chance to shine at a school dance. Through the ups and downs, Soto paints a tender portrait of love, sacrifice, and understanding, highlighting the unbreakable bond between a mother and her daughter. It's a touching narrative that's sure to stir your emotions and make you appreciate the strength of family ties!
Miss Awful
"Miss Awful" by Arthur Cavanaugh is a delightful tale that invites readers to question their perceptions of people and life. The story unfolds in a third-grade classroom where the students are initially overjoyed when their beloved teacher, Miss Branding, takes a week off. Her replacement, Miss Orville, dubbed "Miss Awful" by the kids, seems to be their worst nightmare: she's strict, assigns lots of homework, and believes in learning by doing rather than just fun and games. However, as the week progresses, the students start to see Miss Orville in a new light. Cavanaugh's narrative cleverly explores the balance between discipline and creativity in learning, making us reevaluate our quick judgments and appreciate the value of differing teaching styles. It's a charming read that's both entertaining and thought-provoking!
Charles
"Charles" is a whimsical short story by Shirley Jackson, revolving around Laurie, a kindergartner with a flair for tall tales. Laurie regales his parents daily with stories of a classmate named Charles, who seems to be a magnet for trouble. As the tales of Charles's misbehavior escalate, Laurie's parents grow increasingly concerned and curious about this notorious boy. Jackson expertly weaves humor and suspense into the narrative, keeping readers on their toes about the true identity of Charles. So buckle up, this rollercoaster ride of childhood imagination and parental bemusement is sure to leave you entertained and guessing till the end!
The Moustache
"The Moustache" by Robert Cormier is a touching short story that explores themes of memory, aging, and familial bonds. The narrative follows seventeen-year-old Mike, who decides to grow a moustache, making him look older than he actually is. One day, he visits his grandmother at a nursing home, and due to his moustache, she mistakes him for her deceased husband. In their conversation, Mike learns more about his grandmother's past, her regrets, and the toll that time can take on memories and relationships. Cormier's story offers a poignant reflection on the cycle of life, the bonds that connect generations, and the surprising ways we learn about ourselves and our loved ones. It's a sweet, thought-provoking read that'll warm your heart and make you ponder the passage of time.
Young Goodman Brown
"Young Goodman Brown" is a gripping short story by Nathaniel Hawthorne, and it's all about the struggle between good and evil inside us. Goodman Brown takes off one night into the sinister woods of Salem, leaving behind his wife, Faith. In the forest, he runs into all sorts of crazy stuff like witches, demons, and even his seemingly upright neighbors and mentors practicing devilish rituals! This wild and eerie journey shakes Goodman Brown to his core, making him question everything he knows and trusts. By the time he gets back home, he's so disillusioned that he can't even look at his wife and townsfolk the same way again. It's a haunting, suspenseful story that really gets you thinking about faith, trust, and the darkness hidden in all of us.
The Metamorphosis
"The Metamorphosis" by Franz Kafka is a profound and surreal narrative that explores themes of alienation, guilt, and identity. The story centers around Gregor Samsa, a traveling salesman, who wakes up one morning to find himself transformed into a gigantic insect-like creature. This inexplicable metamorphosis drastically alters Gregor's life, confining him to his room and straining his relationship with his family, who are both repulsed and dependent on him. Kafka's narrative brilliantly explores the depths of human isolation and the societal pressures that can shape our existence. With its symbolic imagery and thought-provoking themes, "The Metamorphosis" is a fascinating read that will leave you pondering the essence of human nature and the meaning of life. Trust me, it's an experience like no other!
The Most Dangerous Game
"The Most Dangerous Game" by Richard Connell is a pulse-pounding short story that brilliantly explores themes of civilization, savagery, and the human will to survive. Our protagonist, the accomplished hunter Sanger Rainsford, finds himself marooned on an isolated island, the guest of the mysterious General Zaroff. But there's a twist: Zaroff, a hunting aficionado, has grown bored of hunting animals and has turned to a new game, the most dangerous game, humans. Rainsford becomes the unwilling participant in Zaroff's twisted hunt, turning from hunter to hunted in this deadly game of survival. Connell's tale is a thrilling exploration of the thin line between hunter and hunted, civilization and savagery. Buckle up for a heart-racing adventure that'll keep you on the edge of your seat!
The Two Brothers
"The Two Brothers" by Leo Tolstoy is a thought-provoking fable that examines the dichotomy between materialistic and spiritual pursuits. The narrative centers on two brothers who embark on contrasting paths in life after their father's death. The elder brother chooses a path of wealth and worldly success, while the younger one opts for a life of simplicity and peace in the countryside. Over time, their choices lead to vastly different outcomes and experiences. Through these brothers, Tolstoy paints a vivid picture of human values and the true meaning of success. This poignant story is a meditation on the essence of happiness and the inherent worth of a simple, honest life. Prepare for a contemplative journey that invites us to reflect on our choices and what truly matters in life.
The Black Cat
"The Black Cat" is an unnerving tale by Edgar Allan Poe, master of the macabre. This chilling story plunges us into the dark descent of an initially loving narrator who, under the influence of alcohol, grows increasingly violent towards his pets, especially a black cat named Pluto. After a gruesome act, a series of strange, horrifying events unfold - including the appearance of a second black cat, chillingly similar to Pluto. The narrator's spiralling madness and guilt culminate in a twist ending that's classic Poe. This gripping story will make your spine tingle - it's a compelling exploration of guilt, madness, and the supernatural. Brace yourself for a thrilling, hair-raising read!
The Veldt
"The Veldt" by Ray Bradbury is a riveting short story that takes readers on a chilling journey into a future where technology dominates every aspect of life. Set in a high-tech automated house, the story follows the Hadley family, who are captivated by their advanced virtual reality nursery, which can create any environment the children desire. However, the parents grow concerned when they notice their children's obsession with the African veldt, a hyper-realistic savannah filled with lions. As the tale unfolds, Bradbury masterfully builds suspense, delving into the sinister consequences of unchecked technology and the perils of an overly immersive virtual world. With its thought-provoking exploration of human dependency on technology and the erosion of family bonds, "The Veldt" serves as a haunting cautionary tale that reminds us to preserve our humanity amidst the ever-advancing digital age.
Rip Van Winkle
"Rip Van Winkle" by Washington Irving is a tale that blurs the lines between reality and fantasy. The story revolves around Rip, a lovable but lazy villager in pre-Revolutionary War New York, who's well-liked but often escapes from his nagging wife into the tranquil landscapes of the Catskill Mountains. On one such outing, Rip encounters strange men playing nine-pins, drinks their mysterious liquor, and subsequently falls into a deep sleep. When he awakens, he finds that his world has drastically changed: his beard has grown long, his dog is gone, and he discovers that he has slept through the entire American Revolution. Irving's whimsical narrative takes us on a journey of time, change, and the enduring charm of the past. Get ready for a heartwarming read that'll transport you to a world where reality intertwines with fantasy!
The Legend of Sleepy Hollow
"The Legend of Sleepy Hollow" by Washington Irving is a classic that melds together folklore, humor, and the supernatural. The story is set in the tranquil town of Sleepy Hollow, known for its ghostly tales, the most famous being the terrifying Headless Horseman. Enter our protagonist, Ichabod Crane, the town's new, superstitious schoolmaster who's smitten with the beautiful Katrina Van Tassel. However, he faces a rival in the boisterous Brom Bones. One night, after a failed proposal to Katrina, Ichabod encounters the dreaded Headless Horseman, culminating in a chase that leaves his fate a mystery. Irving's tale weaves suspense, romance, and the uncanny into a timeless tale that will give you just the right amount of chills. Get ready for a fantastic journey into American folklore!
The Third Wish
"The Third Wish" by Joan Aiken is a captivating short story that follows the life of Mr. Peters, a mild-mannered, solitary man who discovers a magical fish while out fishing one day. With each wish he makes, Mr. Peters unintentionally faces unexpected consequences that lead to an amusing and thought-provoking tale. Aiken weaves together themes of fate, the power of wishes, and the importance of selflessness, leaving readers pondering the complexities of human desires and the potential price one may have to pay for their fulfillment. With its delightful blend of fantasy and moral lessons, "The Third Wish" is a must-read that will leave you enchanted and contemplating the intricacies of life's choices.
The Landlady
"The Landlady" is a spine-chilling short story by Roald Dahl that brilliantly dips into suspense and the macabre. The plot follows a young man named Billy Weaver who, while on a business trip, is drawn to a seemingly charming bed and breakfast. The quirky landlady who runs the B&B seems harmless, if a bit odd, and mentions only two other guests ever stayed there. But as the evening unfolds, Dahl sprinkles in eerie details that make Billy and the readers question the true nature of the landlady and the fate of her previous guests. Dahl's masterful storytelling creates an atmosphere of creeping dread that hooks you from start to finish. Get ready for an unnerving read that'll leave you questioning every turn!
Rikki Tikki Tavi
"Rikki Tikki Tavi" by Rudyard Kipling is a thrilling tale that celebrates the spirit of bravery and loyalty. The story centers around Rikki Tikki Tavi, a courageous mongoose who becomes the unlikely hero of a human family living in India. After being washed away by a flood, he's adopted by the family and soon takes it upon himself to protect them from dangerous creatures - particularly the menacing cobras Nag and Nagaina. Through a series of exciting battles and clever strategies, Rikki illustrates the power of courage and cunning against formidable odds. Kipling's narrative brings the animal world to life with vivid descriptions and fast-paced action, making this a truly unforgettable read. Buckle up for a wild ride with Rikki Tikki Tavi, as he takes on the venomous threats to safeguard his adopted family!
The Fall of the House of Usher
"The Fall of the House of Usher" is an iconic gothic tale by Edgar Allan Poe that draws you into a world of decay, madness, and eerie supernatural elements. The story circles around the final days of the Usher family, as narrated by a friend who visits the dilapidated mansion. He arrives to find the siblings, Roderick and Madeline Usher, in a state of despair and illness. The house itself, mirroring its inhabitants, seems to be decaying and imbued with an air of uncanny dread. As the chilling narrative unfolds, Poe masterfully weaves a tapestry of terror and suspense, culminating in a horrifying climax. Prepare yourself for an intense, spine-tingling experience with this classic piece of horror literature!
Thank you, Ma'am
"Thank You, Ma'am" by Langston Hughes is a heartwarming and thought-provoking short story that revolves around an unexpected encounter between a young boy named Roger and a kind-hearted but tough woman named Mrs. Luella Bates Washington Jones. After Roger attempts to steal her purse, he is caught by Mrs. Jones. Instead of handing him over to the police, she takes him to her home, cleans him up, feeds him a delicious meal, and listens to his story. Through this encounter, Hughes explores themes of compassion, forgiveness, and the transformative power of empathy, leaving readers with a profound sense of hope and the belief that a single act of kindness can change a person's life.
Names/Nombres
"Names/Nombres" by Julia Alvarez is a delightful autobiographical story that explores the struggles of cultural identity and assimilation. The story recounts the Alvarez family's move from the Dominican Republic to the United States, focusing particularly on Julia's personal experiences with the transition. One of the main challenges she encounters is the frequent mispronunciation and misspelling of her name by her American peers, symbolizing her struggle to maintain her cultural identity while integrating into a new environment. Through her heartwarming narrative, Alvarez skillfully captures the immigrant experience and the complexities of finding one's place between two cultures. It's an insightful and relatable read that will resonate with anyone who's ever felt caught between different worlds.
BONUS!
Curated Short Stories Library Members: Click here to access your downloads!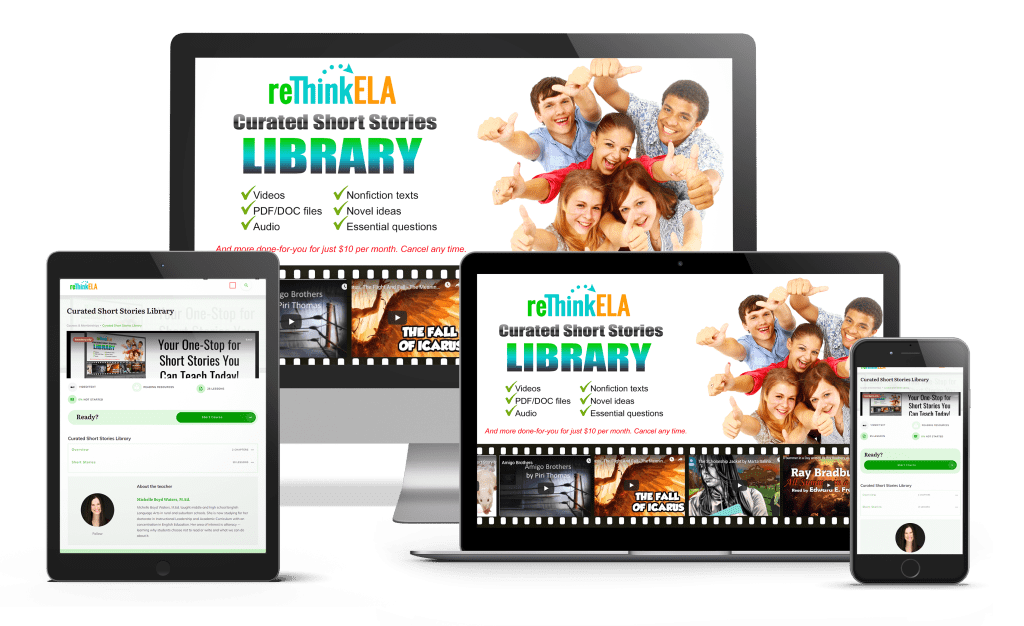 Note: An RTE subscriber emailed me to ask if there was a simple way to subscribe to all the curated resources in one place, without having to enter an email address for every short story. At the time, there wasn't, but we have worked out a way to make it easy for you to access all the resources in one place — right here on this page! For just $10 per month, you can have ongoing access to current and future curated resources! Let us do the late-night searching for you! Learn more here.
Copyright notice: These stories are published on sites other than reThinkELA.com and NO copyrighted stories are excerpted or quoted in RTE-created materials. Some stories are in the public domain (not copyrighted), or are excerpts of larger works, while others are not. In some cases, teachers may print a class set for their own classroom usage, but there are exceptions. Please check with your district regarding its policies and licenses for reproducing printed copies. Generally speaking, you may ask students to download their own copies (outside of the one you download for your own use) to their devices for their own educational studies.